Best price
ezyCollect App Review – Accounts Receivable Automation App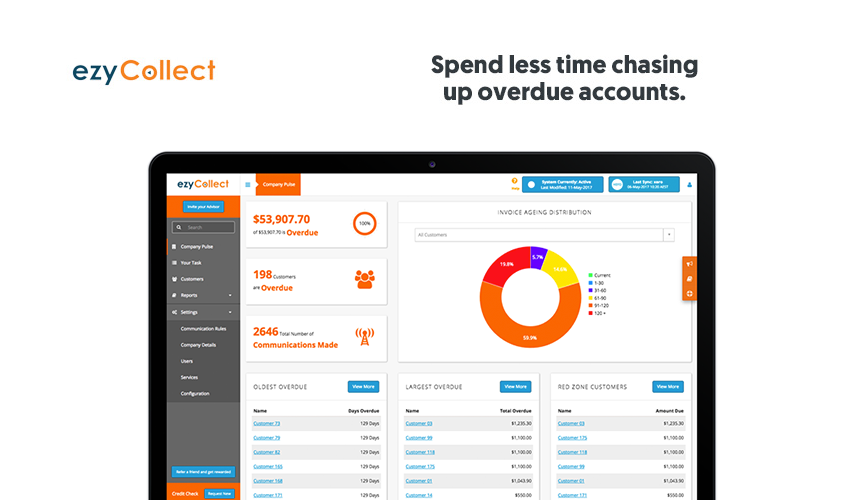 Automation is the way of the future and it's helping businesses scrape back their scarcest resources: time and money. Today we're reviewing a very useful app, ezyCollect's accounts receivable software.
ezyCollect's automation solution lets you be hands-free when it comes to sending overdue invoice reminders to late payers. More than that, it's a complete debtor management application ideal for businesses generating large numbers of invoices each month.
ezyCollect is among the best in the field because of their focus on best practices in accounts receivable management. They work on getting overdue invoices paid, returning working capital to businesses, and saving money on labour and cash flow financing. It is no secret that automation saves hours each week in administration time.
BEST PRACTICE PRINCIPLES
– Consistently send overdue invoice reminders
– Persist until a cash collection is made
– Respect the customer relationship
– Assess credit risk
– Get deep insights quickly
ezyCollect App Review
ezyCollect automatically manages receivables and can help to chase payments more proactively, saving you time and allowing you to chase more customers in your working day.You can instantly see (via very cool graphs) the total amount owing, total amount overdue, largest overdue debtor, longest overdue debtors etc.
IOS App     and   Android App
Why ezyCollect works
This is big business technology available to small to medium business. ezyCollect automates all your reminders. You reach every single overdue debtor big and small with multiple reminders each (email, SMS, post, even fax). You just set up your schedule and the system works in the background. Because you can personalize every reminder template, and communications come from your business address, every reminder looks personalized and sounds like you.
Customers learn you are serious about being paid, and sure enough, they stop ignoring your invoices.
Debtor tracking 
the mapping and tracking of debtors is amazing. You can instantly see (via very cool graphs) the total amount owing, total amount overdue, largest overdue debtor, longest overdue debtors etc. You can use filters to slice and dice data. Debtors can't hide in your books anymore! Also, any communications sent from the system are recorded for you, so you see a full communications history with your debtor.
Credit monitoring
ezyCollect also gives you the tools to get smarter about managing credit. From the dashboard, you can order a credit check report on a customer to check their credit transaction history and sign up for credit monitoring so you get real-time alerts about customers' negative credit events (that way you can try and recover your money before a customer goes into administration).
Legal services
you can escalate your reminders by ordering a demand letter and getting a third party agency involved. This way you keep the momentum going.
Debt collection
you can access debt collection agency to act on your behalf if you need to.
Online payments
you can install a gateway, then add 'Pay Now' buttons to reminders and statements so it's really easy for your customer to pay you straight away with a credit card.
The Return on Investment
Cash on hand—working capital improves as debtors start paying you, and learn to pay you faster.
Time—you will literally save hours and hours each week. That's time you can invest in other parts of your business.
Financing costs—reduce the associated costs of financing your cash flow problem – loans, invoice financing etc.
Try the ROI calculator for yourself and see how your own numbers stack up.
Conclusion
ezyCollect is best in the field with its intuitive user interface and features that all respect the customer relationship. It really understands what businesses need to do to simply get paid and it takes the hassle out of manual tasks. The customer service at ezyCollect is the best—you are supported with free training, a 30 day trial period and in-app help when you need it. Highly recommend.
IOS App     and   Android App
Review Sources :
https://webapprater.com/reviews/ezycollect-app-review-ios-android.html
https://appslisto.com/ezycollect-app-review/
https://reviews.financesonline.com/p/ezycollect/
https://crozdesk.com/accounting-finance/accounting-software/ezycollect